Artists in residence
ChampdAction is an artistic home to many artists from Belgium and abroad. This pool is constantly evolving and growing. Countless artists started their artistic career at ChampdAction, both performers, sound artists, composers, electronics specialists and others. LAbO, the large-scale participation project for students of art colleges ChampdAction started upa few years ago, is the trigger for many students to further specialize in new music.
Serge Verstockt
Serge Verstockt studied music theory, clarinet and electronic music at the Antwerp Conservatory. In 1983 he studied at the 'Instituut voor Sonologie' in Utrecht with Godfired Michael Koenig where he concentrated on formal compositional methods and developed the programme 'Trans'. In 1988 he founded the ensemble Champ d'Action which would devote particular attention to new technological developments: live electronics, interactive computerised works, etc. In the 1990's, with the computer as a catalyst, imagery began to become a constant factor in his work and this resulted in a long-standing collaboration with architect Werner Van dermeersch. In 2000 they jointly realised 'Screens', a multimedia performance in which music and image were intrinsically airborne loudspeakers.
In 2007 Verstockt composed the music for the production 'Requiem für eine Metamorphose' by Jan Fabre and Troubleyn. He toured with this production at the festivals of Salzburg and Ruhr Triënnale. Performances were also held in Vilnius. In his more recent work, Verstockt has collaborated with musicians from a range of disciplines: free-jazz musicians, heavy metalgrunters, human beatboxers, noise-makers... seeking to give a new impulse to the somewhat rigid 'contemporary classical' music scene. 'Drie', for four percussionists, six 60's years organs and rudimentary beatboxing, unchained clarinets, piercing electric guitar and heavy electro-beats was enthusiastically received by audience and press alike. In 2008 Serge Verstockt was commissioned by Blindman (Saxophone Quartet) to create a composition for Champ d'Action and Blindman. This resulted in Twisted Pair, a large-scale ensemble work featuring elements such as Tibetan horns and electronics. Twisted Pair has since been performed in Antwerp, Brussels and Bruges and in winter 2009 a revised version will be performed at the museum Reina Sofia in Madrid. In late 2009 Verstockt's multimedia production 'Voix Instrumentalisée' premiered at the festival Made in Gent.
Recent projects are 'URBAN IN C', 'Screens' (2011), 'Popcorn' (2011). Other projects include a new composition with deScheldezonen (concert band) and electronics at deSingel in Antwerp, the project 'Rencontres' in collaboration with Josse De Pauw and a new production in collaboration with CREW, the multimedia theatre company by Eric Joris. In 2012 Verstockt composed 'Fingerfertigkeit' for the TRANSIT festival. On 22 May 2013 'Hold Your Horses - Grand Opéra de trash in 27 acts and entr'actes - the first opera of Serge Verstockt – premiered at deSingel in Antwerp.
Hans Beckers
studied Multimedia Arts at the School of Arts (KASK) in Ghent. His work is mainly focused on sound, installations, music and performances, but he also makes drawings, etchins and compositions for theatre, video and performances.
In his work he tries to find a balance between music and visual arts. Using self-made instruments, he shows how objects that are not generally considered fit to play music on can in fact become musical instruments. His performances are a combination of composition and improvisation, where he plays a whole range of materials rhythmically, melodically and harmonically.
In 2012 Beckers was laureate of the Canvas Collection with his visual musical performance 'Sonare Machina', where he emphasizes the aesthetics and the rhythm of sound, noise and silence. The same year he developed 'Sonitum Horarium', a sound installation whereby the instruments are all kinds of desert sand from different continents. This installation shows the fascinating sound of sand: desert sand from different continents flows through hourglasses that were created especially for this installation.
Described by The New York Times as agile, compelling and irresistible, Antwerp-based guitarist Nico Couck (b. 1988) started playing the instrument at age 15. In 2013 he obtained his master's degree at the Royal Conservatoire of Antwerp, under the guidance of prof. Roland Broux, and with greatest distinction. Since 2010 he won several awards at e.g. Radio Klara Festival, Laboratorium III (ChampdAction), and the International Lions Music Competition. In 2014 he was awarded a Kranichsteiner Stipendienpreise for interpretation by the Internationales Musikinstitut Darmstadt. His repertoire varies from Baroque to contemporary music with a dedicated focus on present-day developments in music.

In addition to concerts throughout Europe and the U.S., past events and festivals include the Internationale Ferienkurse für Neue Musik Darmstadt (DE), the Global Composition Conference (DE), Acht Brücken Festival (DE), ISCM World Music Days (BE), Transit Festival (BE), Ars Musica (BE), Musica Sacra (NL), and many others. Past performances have been broadcasted on WDR3 (DE), DLF (DE) and Radio Klara (BE). He has collaborated with and premiered works by Clemens Gadenstaetter, Johannes Kreidler, Phil Niblock, Stefan Prins, Simon Steen-Andersen, Serge Verstockt, amongst several others. Besides his activities as a soloist, Nico Couck is a freelance musician in several ensembles, is assigned as guitarist in ensemble ChampdAction, and is affiliated with Nadar Ensemble.

In addition to performing, Nico Couck currently is assistant professor of guitar at the Royal Conservatoire of Antwerp and doctoral researcher at the Orpheus Institute in Ghent.
Peter Jacquemyn (1963° schaarbeek) moves easily between the visual arts and music. As a sculptor he assaults tree trunks with axe and chainsaw. His concerts are just as spectacular: with unbridled energy he lovingly wrestles his double bass.
It is a battle in which all means are fair: bows (1, 2 or 3), dented soda cans, plastic bags, crumpled paper, mutes, horns, retuned strings,...

All of this ranges Peter Jacquemyn among Belgium's most interesting improvisers with a very justified international reputation.
Photo: Tom Indekeu
Benjamin Van Esser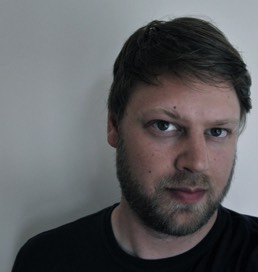 [ pianist | computer music performer | composer | improvisor | experimental music ]
[ PhD researcher | software developer | teacher | accompanist ]

Born in Sapporo, Takao Hyakutome started violin lessons at the age of 4. He studied at the Conservatory of Maastricht (Bachelor degree) and the Royal Flemish Conservatory of Antwerp (Master degree with high honours) with Prof. Dirk Verelst (violin and chamber music) and Prof. Wim Henderickx (composition). After having won several prizes at international competitions, he is now preeminently a solo violinist and violist, and regularly premieres works for both violin solo and ensemble. He also works with ChampdAction and many other chamber music groups. He has performed in festivals like Ultraschall in Berlin, Biennale Musiques en Scène in Lyon, ME_MMIX in Palma de Mallorca, Mixtur in Barcelona, Forum Wallis in Leuk, and many others.

Besides being active as a performer, Takao also does research on extended violin techniques and 5 string violin/viola. He is often invited to give masterclasses and workshops lecturing on these subjects. Furthermore, he is a member of the research group performance practice in perspective at the Conservatory of Antwerp. Takao performs on the violin, Edoardo Marchetti, Torino, 1910; the 5 string violin, Stefan Jarosz, 2013, Antwerp; and the electric 5 string violin, John Jordan, Concord, 2011.
Lyenn is a remarkable vocal talent. He produces melodious sounds, ranging from angelic, soft whispers to piercing, tortured screams. His vocals penetrate deep layers of emotion and create an intense, chilling experience for his audience. Lyenn's music grazes the soul, using a wide variety of instruments sparingly and soberly.
As an accomplished live artist, Lyenn has toured extensively, in Europe and beyond, performing solo, in his varied bands, and accompanying Mark Lanegan as bass player. He has recorded with such exceptional musicians as Marc Ribot, Shahzad Ismaily, Ches Smith, Doug Wieselman, Joel Hamilton, Jolie Holland and Sam Amidon.
With "The Jollity of my Boon Companion," Lyenn released a brilliant debut album at the end of 2009, on which ten breathtaking tracks plunge the listener into a tension filled rewarding journey. "Vowels Fade First" was released in 2011. Its five tracks are calmer compared to earlier work, but still possess the same underlying intensity that Lyenn is known for. His music reveals rather well the contradictory nature of his alluring and elusive personality.
In every form, experiencing Lyenn's music is an intimate encounter.
The duo "64-Feet" (Iris Eysermans & Marie-Noëlle Bette) started in 2009 after they were invited for a duo concert on the famous historic organ of "Torre de Juan Abad" in Spain. Repertoire for four hands for the organ is scarce, and Ann Eysermans was given the assignment for this work. This resulted in "7 little pieces for 2 organists".

The combination of contemporary music on historic organs produces some special effects. Since the appearance of the organ in the Middle Ages, no other instrument is capable of producing such a diversity of sounds. One can call it a genuine synthesizer. Unfortunately the organ is barely featured in the world of contemporary music.

The duo "64-Feet" aims to change this situation by presenting a surprising program, bringing together old and new music, and embracing new technologies, live-electronics, synthesizers and other. This ensures a logical evolution of the organ-building tradition and puts the organ back into a well-deserved perspective in our contemporary world.

"64-Feet" is "ensemble in residence" at Champ d'action, an ensemble with production facility and studio for contemporary music.
Tiptoe Company plays contemporary chamber music for surprising instrumental combinations. 'Delicate' instruments as acoustic guitar, double bass, recorder, harp and cello are brought together. 'On 'tiptoe' they discover musical borders - on the edge of silence, or in intense chamber music.
Ann Eysermans (°1980, Antwerp) Ann Eysermans [Belgium, 1980] is a performer, improviser [double bass and harp] and composer. She is both connected to Champ d'Action as well as working on her own auditory and visual projects.
She obtained her Master's degree 'Musical Notation and Composition' and 'Double Bass, Jazz' at the Royal Conservatory of Brussels.

© 2004-2018 ChampdAction